Overall, 39 titles contested, China's Zhang Bian and Zhou Ying emerged the most successful players on duty when proceedings concluded at the five-day ITTF Slovenia Para Open 2023 in Lasko on the evening of Saturday 13th May.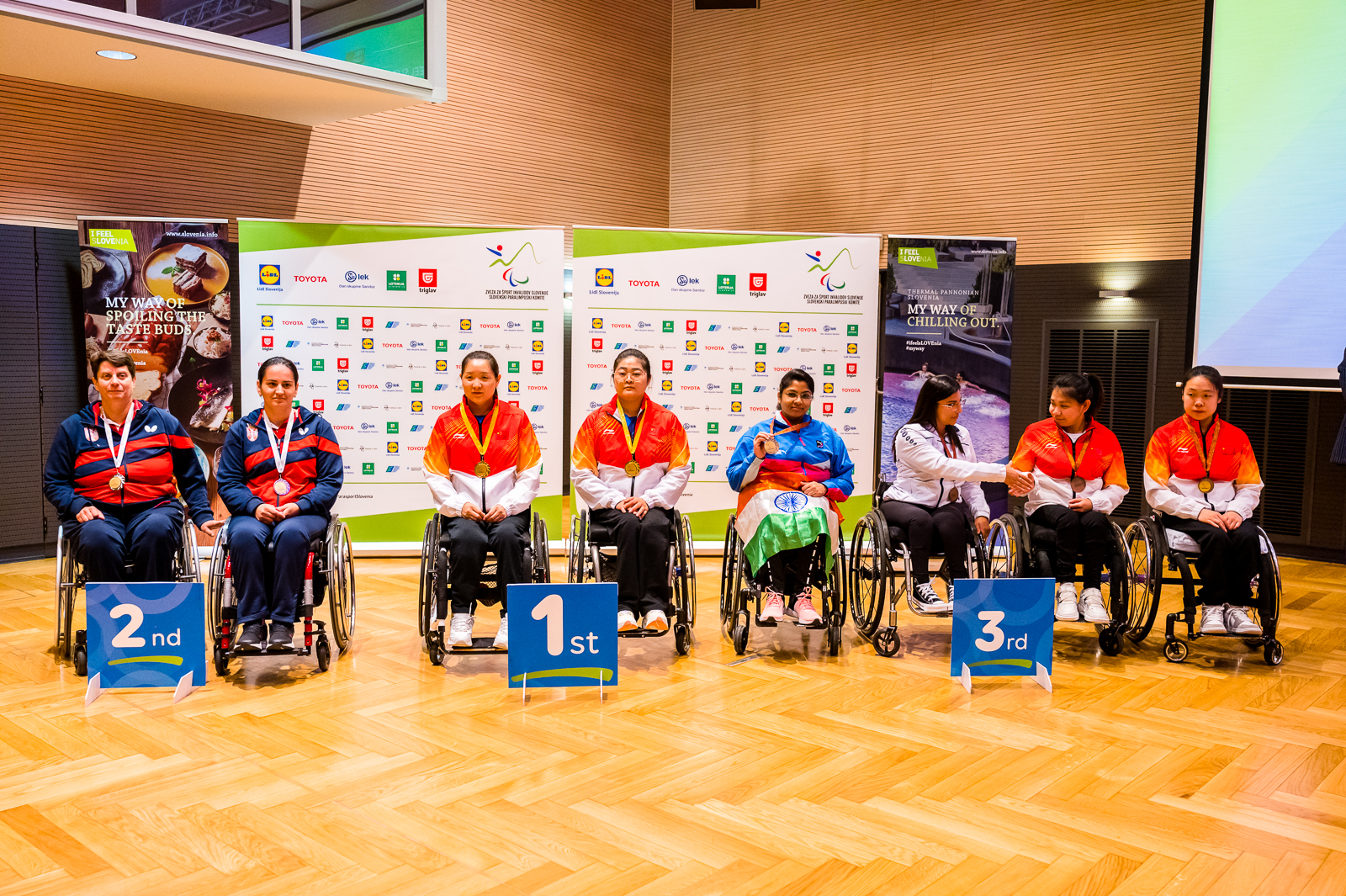 Both completed a clean sweep of titles. In the women's singles, Zhang Bian emerged the class 5 winner, Zhou Ying prevailed in class 4. Later they combined to win women's doubles class 10, before in the mixed, partnering colleagues, Zhang Bian succeeded in class 10 alongside Cao Ningning, Zhou Ying in class 7, with Feng Panfeng.
Success as somewhat expected, Zhang Bian and Zhou Ying both struck gold at the Tokyo 2020 Paralympic Games.
Conversely the titles gained by Germany's Stephanie Grebe and Poland's Maciej Makajew were against the odds.
Stephanie Grebe emerged the women's singles class 6 winner; starting proceedings as the no.2 seed, her success may not seem that remarkable, but when considering the stature of her opponent in the final, the win was outstanding.
The 35-year-old from Berlin accounted for Ukraine's Maryna Lytovchenko (12-10, 4-11, 6-11, 11-8) to clinch gold, maintaining the form displayed the previous week, when she had won in Montenegro.
In recent times the Ukrainian has proved virtually unstoppable; she won the women's singles title at both the 2018 and 2022 World Para Championships, in between she struck gold at the Tokyo 2020 Paralympic Games.
Furthermore, last year at open international tournaments, wherever she played, she won! She completed a clean sweep of titles in Slovenia and the Czech Republic, a feat she repeated earlier this year in Greece.
Stephanie Grebe is no stranger to securing medals at the world's elite events, she was a silver medallist at the Rio 2016 Paralympic Games; for Maciej Makajew, the curriculum vitae is very different, his only prior international experience is some two weeks ago in Greece when he claimed bronze.
On duty in men's singles class 11, not seeded, unbeaten throughout, in the group stage, he accounted for Korea Republic's Kim Gitae, the reigning World champion (6-11, 12-10, 14-12, 6-11, 11-7), before in the penultimate round overcoming Hungary's Peter Palos, the 2012 and 2020 Paralympic Games gold medallist (13-11, 11-8, 13-11).
A place in the final, Maciej Makajew proved relentless, he beat Japan's Takeshi Takemori, the 2014 Asian Games champion (5-11, 11-5, 11-4, 11-2) to claim the top prize.
Surprise results and there were more but perhaps not quite on the same scale.
In the men's singles, in class 2, Frenchman Fabien Lamirault, the reigning Paralympic Games and World champion, was beaten in round one by Brazil's Guilherme da Costa (12-10, 5-11, 5-11, 12-10, 11-8), the title finishing in the hands of Poland's Rafal Czuper, the no.2 seed, the player Fabien Lamirault had beaten in the Tokyo 2012 final (11-6, 12-14, 11-5, 7-11, 11-9).
Fabien Lamirault was not alone. Germany's Thomas Schmidberger, crowned World champion last year in Andalucia, also the top seed, experienced a quarter-final reverse when opposing Thailand's Yuttajak Glinbanchuen (6-11, 11-8, 11-6, 11-8). Not unexpectedly, the event was won by China's Feng Panfeng, gold medallist at the four most recent Paralympic Games.
Similarly, in the women's singles, there were disappointments for reigning World champions.
On duty in class 2, Italy's Giada Rossi was beaten in the final by Korea Republic's Seo Suyeon, the 2018 World champion (9-11, 11-6, 11-6, 12-10), a player who was seemingly in the form of her life. At the semi-final stage she had beaten China's Liu Jing (8-11, 9-11, 11-3, 11-2, 11-7), gold medallist at every Paralympic Games since 2008 in Beijing.
The result reversed the decision of their immediate previous meeting when in the class 1-2 final at the Tokyo 2020 Paralympic Games, Liu Jing had beaten Seo Suyeon in four games (11-7, 11-8, 4-11, 11-8).
Tokyo avenged, it was the same in class 8; at the final hurdle in the Japanese capital city, China's Mao Jingdian had overcome Chinese colleague, Huang Wenjuan in four games (11-13, 11-5, 11-5, 11-9), in Lasko, Huang Wenjuan turned the tables. She prevailed by a similar margin (11-5, 8-11, 11-9, 11-9).
Problems for World champions, it was no different for Turkey's Kubra Korkut, Hungary's Alexa Szvitacs and Lea Ferney of France, all winners in Andalucia.
Present in class 7, Kubra Korkut finished in fourth place in a group organised event behind China's Wang Rui, Korea Republic's Kim Seongok and Sweden's Smilla Sand; Alexa Szvitacs experienced a class 9 semi-final reverse at the hands of Poland's Karolina Pek, the champion elect (11-8, 11-6, 7-11, 11-9).
A semi-final defeat for Alexa Szvitacs, for Lea Ferney in class 11, it was one round earlier, she was beaten by Japan's Mio Sayuri (11-13, 9-11, 17-15, 11-7, 11-7). Turkey's Ebru Acer emerged the eventual winner.
Surprise outcomes, otherwise in both the men's singles and women's singles events, the winners were as status advised.
Reigning Paralympic Games and World champions, Germany's Valentin Baus (class 5) and Belgium's Laurens Devos (class 9) enjoyed success as did Tokyo gold medallist, Turkey's Abdullah Ozturk (class 4).
Likewise, reigning World champions stuck gold; there were successful ventures for Korea Republic's Kim Hyeok (class 1), Italy's Matteo Parenzan (class 6) and Great Britain's Will Bayley (class 7), as well as for Ukraine's Viktor Didukh (class 9).
Also, in class 10, Montenegro's Filip Radovic justified his top seeded position.
Following suit in the women's singles, Paralympic Games gold medallists on more than one occasion, China's Xue Juan (class 3) prevailed, as did reigning World champion, Poland's Dorota Buclaw (class 1). In a similar vein it was a fruitful outcome for Brazil's Bruna Alexandre, the top seed in class 10.
Further success for players with a host of accolades, it was the same in the men's doubles, competing in class 14, the French pairing of Clément Berthier and Esteban Herrault secured their fifth title of the year. In February they won in Egypt, in March in Spain, Italy and Brazil, now in May in Slovenia.
Gold for France, there was also men's doubles gold for Germany in the guise of Valentin Baus and Thomas Schmidberger (class 8), as there was for Korea Republic. Cha Sooyong and Park Jincheol (class 4) in addition to Kim Changgi and Kim Gitae (class 22) secured the top prize, an effort feat matched by China's Lian Hao and Zhao Shuai (class 18).
Meanwhile, in addition to Zhang Bian and Zhou Ying (class 10), it was women's doubles gold for Giada Rossi and Italian colleague Michaela Brunelli (class 5), Maryna Lytovchenko and Brazil's Lethicia Lacerda (class 14), as well as for Turkey's Merve Demir and Neslihan Kavas (class 20). Not to be overshadowed Japan's Kanami Furukawa and Maki Ito (class 22) proved irrepressible.
Success for Kanami Furukawa, additionally in the same class she partnered colleague Takashi Asano to mixed doubles gold to add a second title to her name, a feat also achieved by Giada Rossi and Clément Berthier. Giada Rossi partnered Korea Republic's Cha Sooyong to class 5 gold, Clément Berthier allied with compatriot Morgen Caillaud to secure the class 14 top prize.
Titles for Japan and France but in the dominant mixed doubles force was China. Additional to Feng Panfeng and Zhou Ying alongside Cao Ningning and Zhang Bian, it was gold for Peng Weinan and Xiong Guiyan (class 17), as well as for Lian Hao and Liu Meng (class 20).
Play concluded in Lasko, the three-day ITTF Polish Para Open 2023 commences in Wladyslawowo on Friday 26th May.
Source:  Clean Sweep for Zhang Bian and Zhou Ying but Stephanie Grebe and Maciej Makajew Steal the Show in Lasko – International Table Tennis Federation (ittf.com)