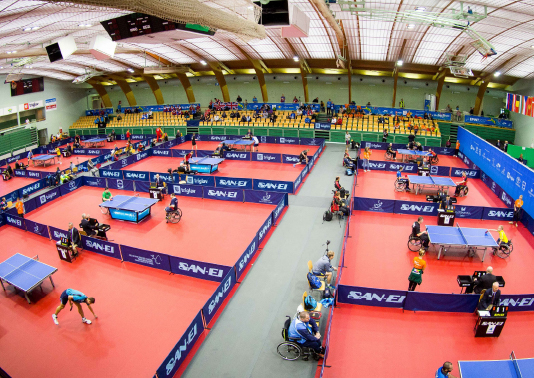 Sports hall Tri Lilije is home venue for Pivovarna Laško basketball club and it was one of the training venues for Eurobasket 2013. The hall has been a table tennis venue for Slovenia Open for past decade and parasports have had important influence on the development of the hall.
Field of play is on the first floor and it can be accessed by both lifts, although the back lift will take athletes directly to call area and the front lift will predominantly be used to take spectators to tribunes on the second floor. Lockers can be accessed thought front and back entries. Accessible toilets are in the back of the hall.
Spectators and non-playing athletes will not be allowed to access field of play and are encouraged to use the spectator's area on the second floor.
GETTING AROUND LAŠKO
Organizer will provide shuttle between hotels and venues.
On competition days the shuttle will leave hotel every 15 minutes. For more detailed information, please check info boards.
Hotel Zdravilišče Laško ****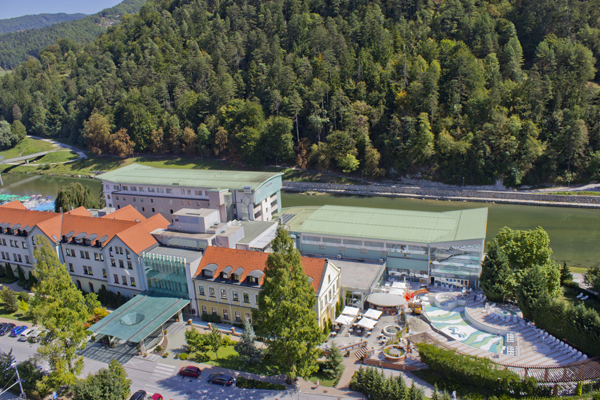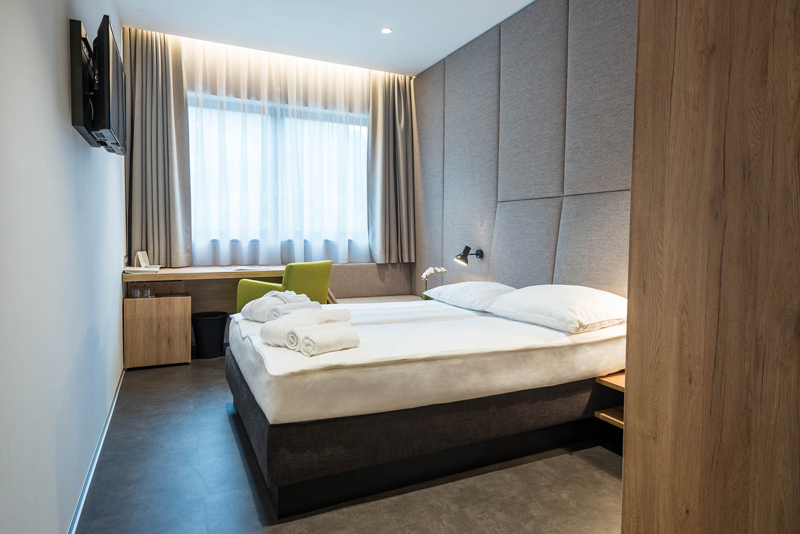 The hotel complex is located in an unspoiled natural setting beside the Savinja River, at the edge of the cultivated and a few hundred years old Health Spa Resort Park. The Laško town center is only a 15-minute invigorating walk away. We take pride in our the history of the Hotel Zdravilišče Laško. We are distinguished by more than 160 years of the Laško thermal springs use for health purposes, and more than a 60 years long tradition of our medical rehabilitation program. Today we represent a modern and high-quality center for medical and wellness tourism with programs and services for health and well-being. The hotel is designed with no architectural barriers, for disabled guest. Moreover, a part of our rooms is completely adapted for people with mobility problems, who require the supervision and care of medical staff. Spend the day relaxing in thermal pools, where the Laško thermal water will enhance your strength and improve your mobility. Find relaxation in the Sauna Centre, where the saunas have been enriched with special programs, or treat yourself to pampering in the Health and Beauty Centre. Take care of your health and visit guided and specially designed programs of physiotherapy and occupational therapy at the premises of the Medical Centre.
Zdraviliška cesta 4
3270 Laško Slovenia
Info: +386 3 423 2000
Reservations: +386 3 423 2100
Hotel Thermana Park Laško **** Superior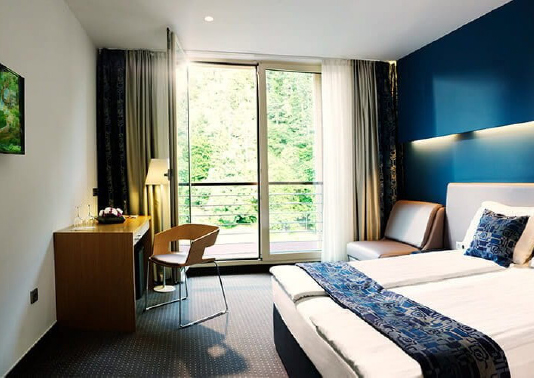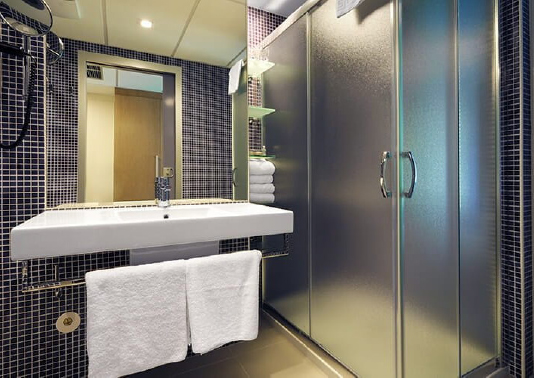 The complex is located in the unspoiled natural environment along the Savinja River, surrounded by hills. The striking Hum Hill, known as the "Laški Triglav", flourishes above the Hotel and offers a panoramic view of Laško. The Laško town center is just a 15-minute invigorating walk along the landscaped walking paths away, which extend on both sides of the Savinja River.
The Hotel Thermana Park Laško complex offers endless ways for the relaxation of body and mind under one roof. You can start your journey in the Thermal Water Drinking Hall, where a glass of the Laško thermal water will stimulate and revitalize your body while improving your well-being. You will find a wide range of inspiring water relaxations under the unique glass dome of the Thermal Centre. The Wellness Spa Centre offers a wide range of massages, baths and other high-quality relaxation treatments and care services. Among them the Beer and Honey Wellness treatments that offer an unique experience in which you can indulge only in Laško, are certainly worth trying. In the Thermana&Veda Ayurveda Centre Laško that brings together a team of Indian experts we will help you detoxify your body and bring you closer to the eastern wisdom of health promotion. You will also find delight in our cuisine. Indulge in gourmet delights in our À la carte or Hotel Restaurant or in the pleasant atmosphere of the Café with a great selection of drinks and desserts of all kinds. The varied animation program will further enrich your vacation.
Zdraviliška cesta 6
3270 Laško, Slovenia
Info: +386 3 423 2000
Reservations: +386 3 423 2100
www.thermana.si
Rimske terme Wellness Spa Resort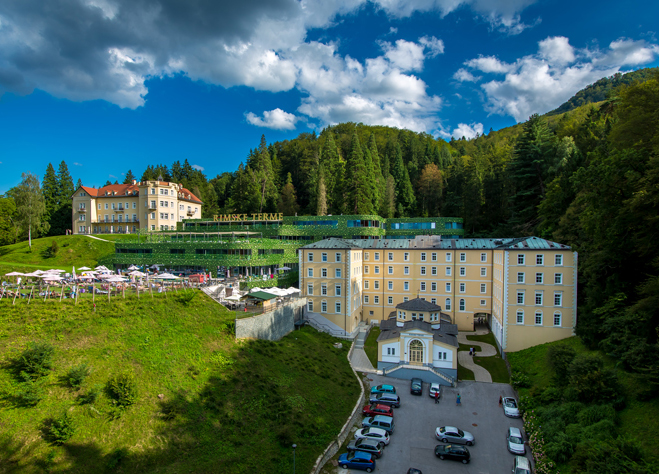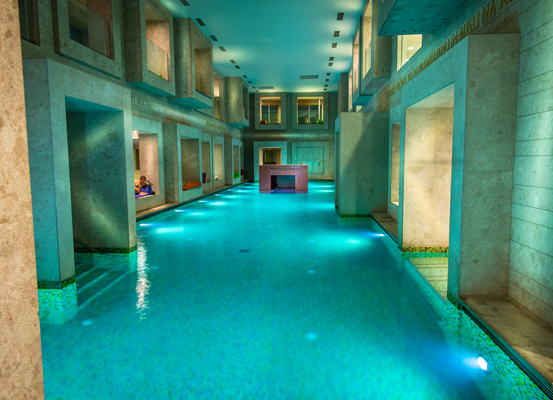 Rimske terme Wellness Spa Resort is synonymous for a timeless elegance of ambient, high standard equipped suites, warm hospitality, superb cuisine and unique wellness services. A pearl in the oasis of the unspoiled nature in between lush vegetation and surrounded by the beneficial effects of the thermal springs. Architecturally sophisticated whole of three four stars hotels, which offer 190 standard rooms and suites. The perfect destination for organizing a seminar, team building or gala event. Wellness Center Amalia offers unique house massages and rituals, land of saunas, fitness and cosmetics center, a hairdresser and a unique swimming pool designed in ancient Roman style. A visit to the medical center is recommended to all who have chronic or acute joint pain, back problems, respiratory problems or are recovering from an injury. A la carte restaurant Sofia offers a unique culinary experience, which is rounded off by fine wines from Slovenia. Sports activities, cycling, nordic walking, skiing, tai chi, and hiking.
Terme Resort d.o.o.
Toplice 10, 3272 Rimske Toplice, Slovenia
Info: +386 3 423 2000
Reservations: 386 3 574 2011
www.rimske-terme.si