Everything is set in Laško for today's draw for the singles competition at the 16th Slovenia Open Thermana Laško. The tournament starts tomorrow at 9 a.m., preceded by the official opening ceremony.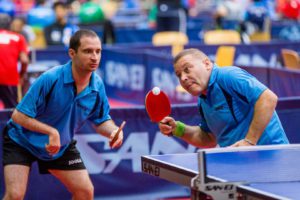 "We are happy and proud to have managed to persuade ITTF to let us organize a big and recognized event. If Italy hosted 250 players, we can manage 450. ITTF recognized that. But I still regret that we were forced to turn down at least ten countries. We still have an amazing gathering of players here, the world's top ten of basically each class will compete," technical director of the tournament Gorazd Vecko is thrilled about the participation numbers, justifiably claiming this event will even surpass last year's world championship when it comes to the quality of players.
"We will see more than 2,200 matches on 22 tables in the next four days, starting at 9 every morning and the last match will start at 9 in the evening," Vecko adds and invited everyone eager to see the masters of table tennis to come to the Tri Lilije venue!