The first matches of the 16th Slovenia Open Thermana Laško will be on on Wednesday the 8th of May. But a few days before, on Saturday the 4th of May, to be exact, a training camp, organized and managed by Gorazd Vecko, will also start in the town on the Savinja River. The trainings at the Tri Lilije venue will be attended by the national teams of Slovenia, Great Britain, Japan, South Korea, USA and Norway.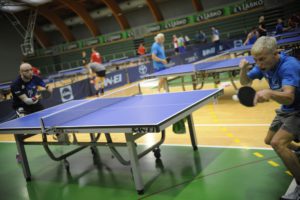 "Some teams arrive a few days ahead of the tournament to use the time for extra training, aiming to get acquainted with the venue, the floor, the balls," explains Gorazd Vecko, manager of the British national team and technical director for the event in Laško.
"The tournament in Laško is the most important qualifying tournament for the Tokyo Paralympic Games. the world's top 10 players will be competing in each class," Vecko adds.