Second place in their initial phase group, the Korea Republic combination of Park Hongkyu and Lee Seho emerged the outfit to attract the attention in the men's team standing categories on Friday 10th May at the Para Thermana Lasko Slovenia Open 2019.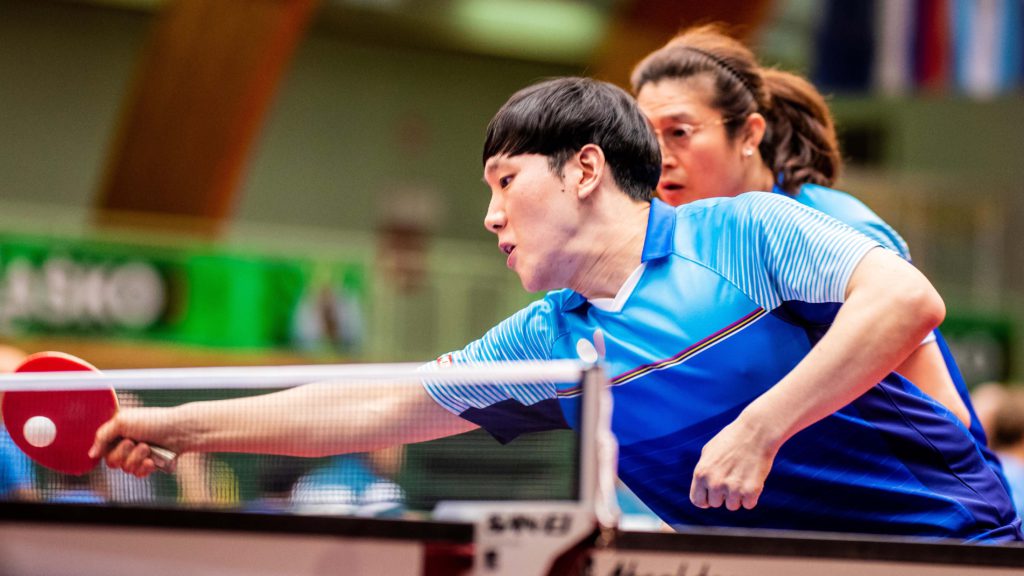 A day that started on a low note, ended on a bright note; a medal guaranteed.
A full distance 2-1 defeat at the hands of Chile's Matias Pino Lorca and Cristian Dettoni, the no.4 seeds, had been the outcome earlier in the day; runners up spot was their lot, thus progress to the quarter-finals.
It was at that stage Park Hongkyu and Lee Seho excelled; they recorded a 2-0 win against the top seeds, the Great Britain trio comprising Paul Karabardak, Martin Perry and David Wetherill. At the semi-final stage they now meet the no.4 seeds, the partnership comprising Romania's Bobi Simion and Italy's Matteo Parenzan, the no.3 seeds. In the opposite half of the draw Matias Pino Lorca and Cristian Dettoni confront the no.2 seeds, China's Huang Jiaxin and Chen Chao.
Problems for the top seeds, in the remaining men's team standing classes, as with the second seeds, it was progress to the semi-final round.
In class 7, Spain's Alvaro Valera, Jordi Morales and Alberto Seone Alcazar duly progressed as did China's Yan Shuo and Liao Keli. Likewise, in class 8, Ukraine's Viktor Didukh, Ivan Mai and Maksym Nikolenko reserved a penultimate round place. Likewise the next outfit in the order of merit, the Chinese combination of Zhao Shuai, Ye Chao Qun and Peng Weinan, advanced.
Success for the favourites, in class 9 life was just the same. Sweden's Emil Andersson and Daniel Gustafsson secured a semi-final place, an achievement matched by Great Britain's Ashley Facey Thompson and Josh Stacey. A medal guaranteed for Great Britain, it is the same class 10; Kim Daybell alongside Montenegro's Filip Radovic duly reached to the penultimate round as did the Spanish trio of José Manuel Ruiz, Juan Bautista Perez and Jorge Cardona.
Meanwhile, in class 11, for players with a learning disability, the top seeded combination of Belgium's Florian Van Acker and Hungary's Peter Palos advanced to the semi-final round, a situation that applies also to the second seeds, Japan's Takeshi Takemori and Koya Kato.
Play at the Para Thermana Lasko Slovenia Open 2019 concludes on Saturday 11th May.
Thermana Lasko Slovenia Para Open 2019: Latest results and main draws