Single events of the 15th Slovenia Open Thermana Laško tournament ended today in the afternoon. The tournament is considered one of the biggest table tennis tournaments for the disabled in the world. After short break we've continued with team events.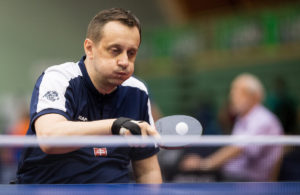 British and Egyptian players too strong
In the final games of single evemts there was also a Slovenian representative. Andreja Dolinar finished the competition in quarterfinals, where she was defeated by British Susan Gilroy (1:3).Luka Trtnik won against Japanese Masachiko Inoui (3:0), but in the quarter finals he didn't manage to overcome Egyptian Ahmed Sayed Mohamed (0:3), who later on also eliminated Paralympic Champion British Will Bayley.
Positive assessment
"I am pleased with the games of single events, they were exceptionally good. And I am also happy I've managed to come this far. I started well today, but the Egyptian in the quarter finals was a bit too much for me. However, all together is a good incentive for team events. I will join powers with the same Egyptian player who defeated me in the singles. Silently we hope for medal," predicted 20-year old Luka Trtnik, who has reached the achievement of the career in Laško. He has ranked among top 8 in his class for the first time. This is a great incentive for a young athlete.
"The game was hard and the opponent had a really good day. Our thoughts are focused on team events. Barbara and me will play against difficult opponents, Serbia and Germany. The later is our chance. We will have to try hard," said Andreja Dolinar.
Now – team events
Slovenia has three powerful pairs in team events: Andreja Dolinar and Barbara Meglič, Primoža Kancler and Bojan Lukežič, Luka Trtnik, who will join powers with Egyptian Ahmed Sayes Mohamed. Andreja and Barbara lost the first game against Serbia (1:2), Trtnik against Brasil (0:2). The competition continues tomorrow and ends on Saturday.
Surprises in single events
In women's singles British Susan Gilroy surprisingly defeated current Paralympic Champion Borislava Perić Ranković. However, she didn't manage to overcome German Sandra Mikolaschek.
There were a bit more surprising results in the elimination round of men's singles events. Serbian Mitar Palikuča won in SM5 against Turkish Ali Ozturk. In second semi-final was Norvegian Tommy Urhaug stronger than British Jack Hunter Spivey. Victory in SM8 was celebrated by 22-year old Ukrainian player Ivan Mai, which is a big surprise.
"I had some troubles with shoulder, but Swedish team helped me. I am happy I won and I always like to come back to Laško," said the champion of the class SF8 Aida Dahlen after the final.
"It wasn't easy, so it was crucial I stayed focused. Nadejda's game was perfect, but at the end I sill managed to won," was happy Italian Giada Rossi.
"I don't know what has happened to me in 3rd and 4th set. I was confused … And the heat in the sports hall took a toll on me. But somehow I managed to focus and calm down and won at the end," said German Sandra Mikolaschek.
Champions have become:
SF 1-2: Giada Rossi (Italy)
SF3: Anna-Carin Ahlquist (Sweden)
SF 4-5: Sandra Mikolaschek (Germany)
SF 6: Maryna Ytovchenko (Ukraine)
SF 7: Kelly Van Zon (Netherlands)
SF 8: Aida Dahlen (Norway)
SF 9: Neslihan Kavas (Turkey)
SF 10: Bruna Costa Alexandre (Brasil)
SF 11: Maria Krystyna Lysiak (Poland)
SM 1: Endre Major (Hungary)
SM 2: Rafal Czuper (Poland)
SM 3: Thomas Schmidberger (Germany)
SM 4: Abdullah Ozturk (Turkey)
SM 5: Mitar Palikuča (Serbia)
SM 6: Peter Rosenmeier (Denmark)
SM 7: Mykhaylo Popov (Ukraine)
SM 8: Ivan Mai (Ukraine)
SM 9: Iurii Nozdrunov (Russia)
SM 10: Denislav Stefanov Kodjabashev (Russia)
SM 11: Peter Palos (Hungary)